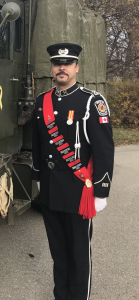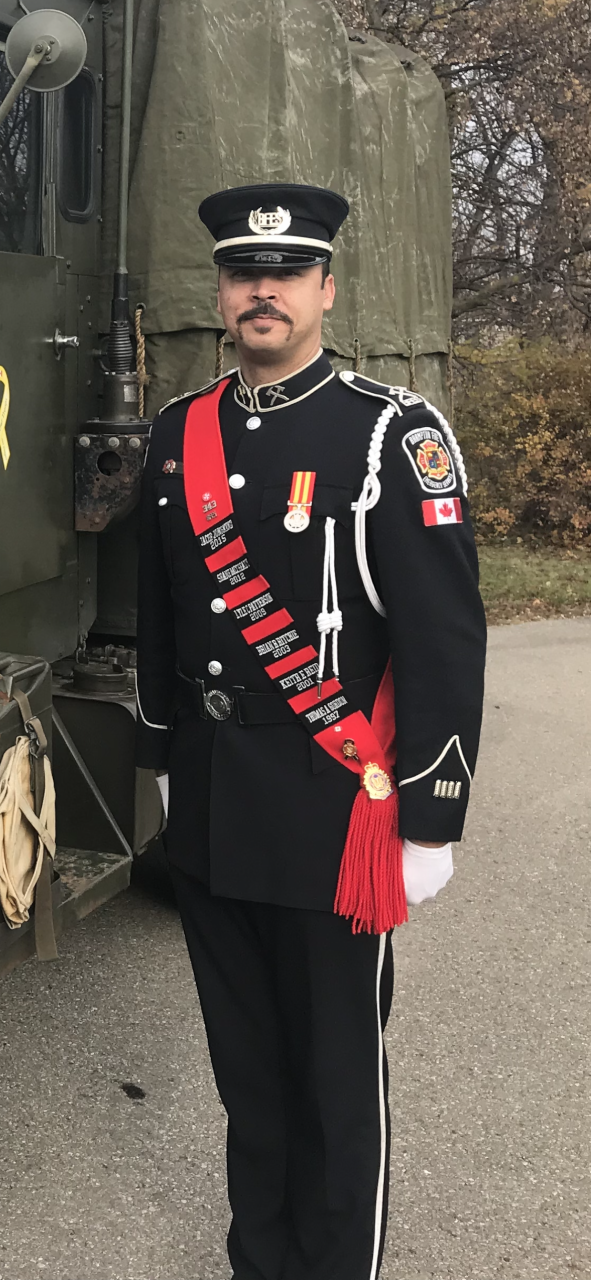 Honour Guard – Coordinator
Jordan Paris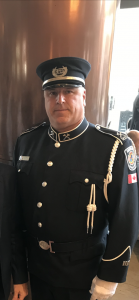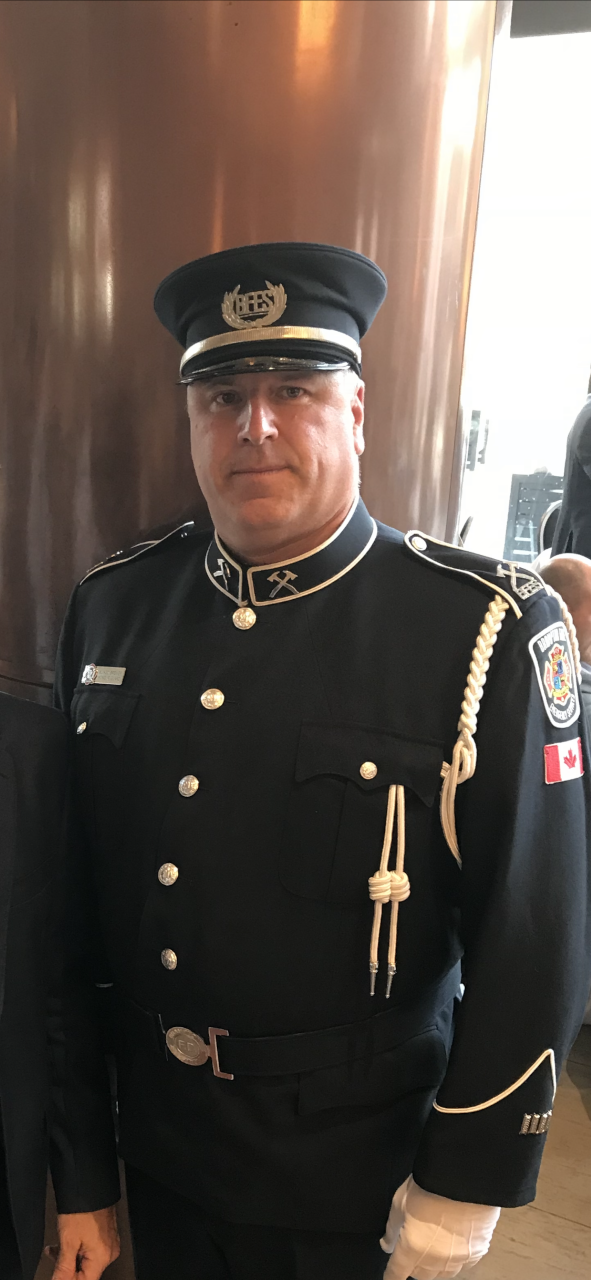 Honour Guard – Co-Coordinator
Mark Brewer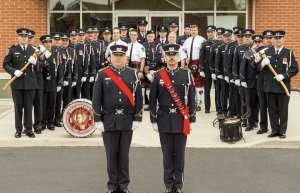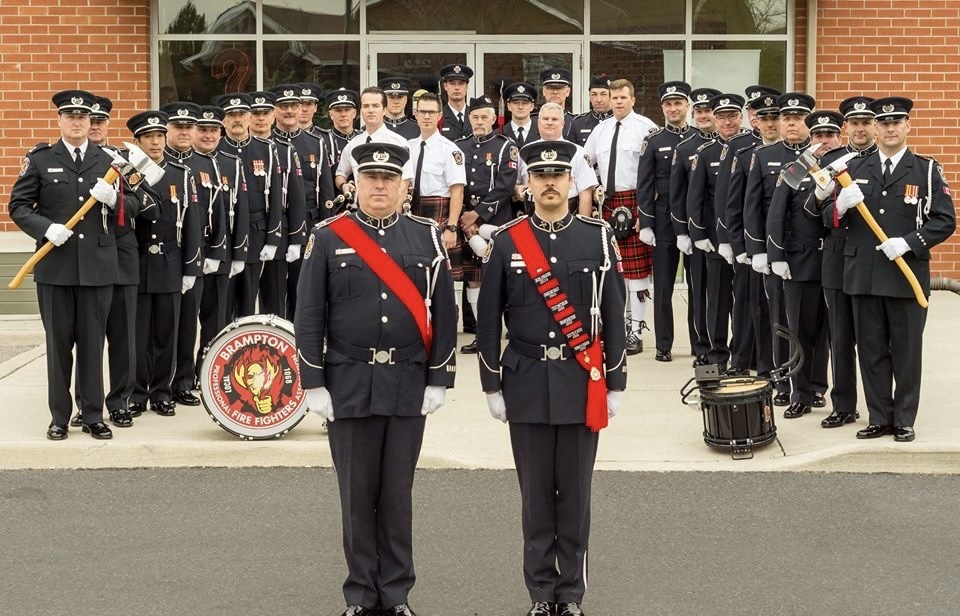 BFES- BPFFA Honour Guard
---
Brampton Honour Guard History
Brampton now maintains one of, if not the longest running Fire and Emergency Services Honour Guards in Canada.
The Brampton Fire and Emergency Services Chief's Ceremonial Honour Guard was formed 40 plus years ago.  In early 1976, Capt. Charlie Martin wrote a letter to Fire Chief Jim Brunne, requesting permission to form a group of firefighters, who would act as representatives at funerals and the Remembrance Day parade, to show of respect for both our fallen brothers and veterans. With 15 members volunteering from within the ranks, wearing standard dress uniform and without a colour party, the Brampton Fire Department Honour Guard was born.
As time progressed, so did the Honour Guard. Under the direction of Coordinators Mike Hasz and Chris Arthey, with the added support of Fire Chiefs and Council, it has grown to a 30-member contingent with full dress uniforms, which includes a full ceremonial Colour Party. A pipes and drums band has also been formed.  Monthly drill sessions were also initiated to ensure a high level of discipline and professionalism.
Mike Hasz and Chris Arthey, envisioned a uniform that while traditional, set the Honour Guard apart from the everyday dress uniform.  Both worked tirelessly for more than a year, revising designs and details to ensure that each item was exact. The result is what we proudly wear today.
The Guard today is made up of 25 active members & 8 retired members of the Brampton Fire & Emergency Services. This group of dedicated firefighters volunteers their time to attend many functions and events across Canada and the United States. Unfortunately, funerals and memorial services account for most appearances that the Honour Guard Unit attends. Events like parades are a welcome break from the solemn funerals they so often participate in.
Now, under the direction of the Coordinator & Drill Commander Jordan Paris and assistant coordinator Mark Brewer the Unit meets monthly to drill and practice on maneuvers. They are always ready at a moment's notice if called. Depending on the function or event, a Colour Party will be deployed, along with the standard marchers. The Colour Party may consist of various flags along with ceremonial axes and pike poles which are tools of the trade for firefighters.
They have attended several memorials for fallen Firefighters in New York City, Worchester Massachusetts, Yellowknife, N.W.T., Buffalo, N.Y. Montreal Quebec, the IAFF Colorado memorial, and the annual Canadian Fallen Firefighters Memorial in Ottawa. This ceremony honours firefighters from across Canada who have made the ultimate sacrifice and died in the line of duty. In 2009, Brampton Fire had the honour of being the host department for the Canadian Fallen Firefighters Memorial Service.
Other local events you may see the Honour Guard at are the National Day of Morning Ceremony, the Sports Hall of Fame Awards banquet, and Remembrance Day. The Honour Guard, with full colour party, has for several years attended and led our new recruits into the ceremonial graduation service. This is a proud moment for families and friends, as these new recruits embark on a career in this noble profession.  Other duties within the department quickly followed with the introduction of, the change of Command Ceremony, when Chief Andy MacDonald retired. The guard also is conducting a 'piping out' ceremony for a firefighter's last day.  This ceremony, first introduced by the Brampton Fire Department, was quickly emulated by many other fire departments."
With the tremendous support of Fire Chief Bill Boyes, Mayor Patrick Brown, and city council, they have become ambassadors of the city that have made Brampton the envy of many fire departments, nationwide.